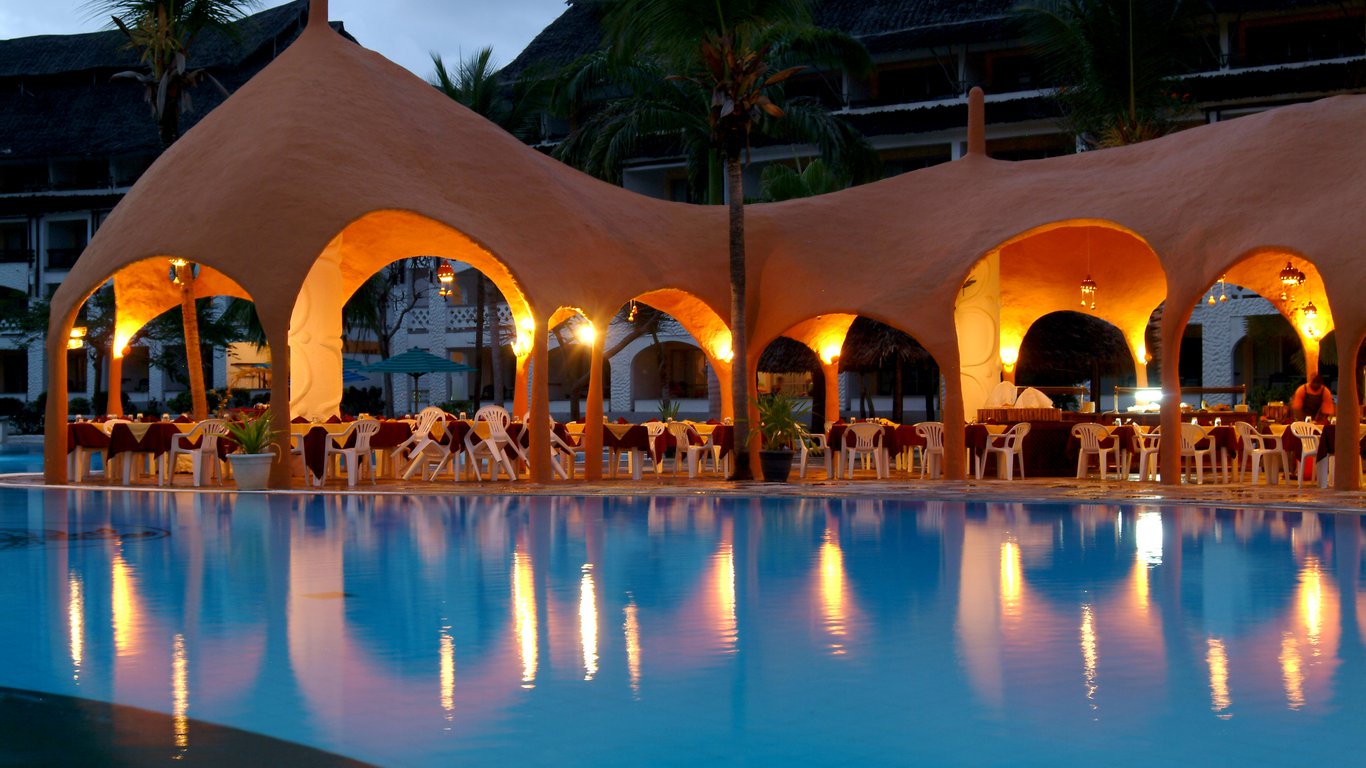 Diani Beach Road Diani, Ukunda
Southern Palms Beach Resort is one of the most affordable hotels in Diani which offers direct access to sparkling Kenyan waters, white sand, and swaying palms. Discover an oceanfront hotel that captures the essence and allure of Mombasa and The Indian Ocean. Feel the warmth of the sun and the friendliness of Mombasa from your home away from home that is, Southern Palms Beach Resort. Escape from the norm with endless options and all the comforts of a full-service hotel, ideally suited to couples and families alike. Relax, unwind and fall in love with all that makes Kenya and Mombasa uniquely unforgettable. This resort is truly unique among the many Diani beach hotels because of the networks of swimming pools that spread throughout the entire property. You can swim at your leisure, relax in the shade, or see what the surrounding area has in store.
Southern Palms Beach Resort consists of 298 air conditioned rooms including 2 "luxury suites", set in almost 10 acres of beautifully tended tropical gardens. We have two enormous free form swimming pools, probably the largest in Eastern Africa, adding a unique feeling of space and majesty to our Resort!.
You may choose to simply relax on the resort, enjoying the warmth of the African sun and the soothing sound of the waves, or you can explore Diani and Mombasa. This beautifully designed resort has a relaxed and friendly atmosphere and offers an all inclusive concept. It has a unique blend of buildings designed in Swahili architecture and enjoys the most spectacular white sand beach.
Below are the Room types available in Southern Palms Beach Resort
Private balconies are featured in all rooms overlooking the beautiful Indian Ocean. Southern Palms Beach Resort guarantees guests a pleasant stay whether in Mombasa for business or pleasure.
4 Poster Bed
Mosquito Net
Air Conditioning
Coffee/Tea Making
Mini Fridge
Terrace/Balcony
TV & DVD
Garden-Pool View
Electronic Safe (Extra Charge)
Direct Dial Telephone
Hairdryer
Bath & Walk-In Shower
Interconnecting Rooms
Ocean View Rooms
2-Suites
keyboard_arrow_leftPrevious
Nextkeyboard_arrow_right
Garden View
Sea Facing
Sea Front
Superior Room
1st Aug – 31st Oct 2020
(Free Night Offer)

KES 6,555/- PPS
KES 7,505/- PPS
KES 7,896/- PPS
KES 8,366/- PPS
1st Nov – 10th Dec 2020
Weekday Rates
(Mon,Tue,Wed,Thur)
(Free Night Offer)
KES 6,555/- PPS
KES 7,505/- PPS
KES 7,896/- PPS
KES 8,366/- PPS
1st Nov – 10th Dec 2020
Weekend Rates
(Fri, Sat, Sun)
KES 7,895/- PPS
KES 8,835/- PPS
KES 9,305/- PPS
KES 9,775/- PPS
11th Dec – 22nd Dec 2020
KES 9,375/- PPS
KES 10,315/- PPS
KES 10,785/- PPS
KES 11,255/- PPS
23rd Dec – 2nd Jan 2021
KES 16,780/- PPS
KES 17,720/- PPS
KES 18,190/- PPS
KES 18,660/- PPS
keyboard_arrow_leftPrevious

Nextkeyboard_arrow_right

Garden View
Sea Facing
Sea Front
Superior Room
1st Aug – 31st Oct 2020
(Free Night Offer)

KES 6,555/- PPS
KES 7,505/- PPS
KES 7,896/- PPS
KES 8,366/- PPS
1st Nov – 10th Dec 2020
Weekday Rates
(Mon,Tue,Wed,Thur)
(Free Night Offer)
KES 6,555/- PPS
KES 7,505/- PPS
KES 7,896/- PPS
KES 8,366/- PPS
1st Nov – 10th Dec 2020
Weekend Rates
(Fri, Sat, Sun)
KES 7,895/- PPS
KES 8,835/- PPS
KES 9,305/- PPS
KES 9,775/- PPS
11th Dec – 22nd Dec 2020
KES 9,375/- PPS
KES 10,315/- PPS
KES 10,785/- PPS
KES 11,255/- PPS
23rd Dec – 2nd Jan 2021
KES 16,780/- PPS
KES 17,720/- PPS
KES 18,190/- PPS
KES 18,660/- PPS
Regular plan
| Mon | Tue | Wed | Thu | Fri | Sat | Sun |
| --- | --- | --- | --- | --- | --- | --- |
| $0.0 | $0.0 | $0.0 | $0.0 | $0.0 | $0.0 | $0.0 |